Discipleship Training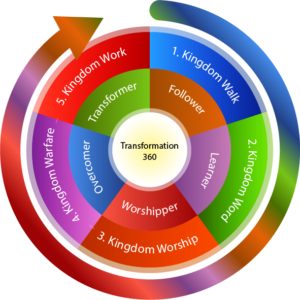 Saltmakers 360 is our church's discipleship course.  It's a 20-week course we designed to transform the unchurched into an effective Jesus followers.  It comprises five modules.  Each module lasts for four weeks.  All new members must matriculate through Transformation 360.
KINGDOM WALK – FOLLOWER
The Kingdom walk of an effective Jesus follower includes his daily conduct, moral character, integrity, truthfulness, and other qualities indicative of his daily life. It's the first aspect of his life noticed by others. It serves as the foundation for the rest of his life.
As such, the first part of Transformation 360 covers the new birth, grace versus works, the fruit of the spirit, how to renew the mind, crucify the flesh, and other topics that affect a Jesus follower's Kingdom walk.
KINGDOM WORD – LEARNER
No person can aspire to be an effective Jesus follower without being a skilled student of the Word of God (Holy Bible).   He must commit to learning the Bible. The Bible must be his manual for life. Hence, the second part of Transformation 360 provides the basic tools for the Jesus follower to become a great learner.
KINGDOM WORSHIP – WORSHIPPER
We think of worship as our response to God's majesty. To be a true worshipper, an effective Jesus follower must learn how to respond to God's majesty in spirit and truth. He must learn that worship is not only a song or dance but a total lifestyle. After completing the third part of Transformation 360, an effective Jesus follower will become a Kingdom worshipper.
KINGDOM WARFARE – OVERCOMER
Spiritual warfare is the focus of the fourth module of Transformation 360 This module prepares a worshipper to become an overcomer.  An overcomer knows how to overcome satan's attacks. He walks in authority and victory over satan. Thus, this module focuses on topics related to spiritual warfare such as demonology, the kingdom of darkness, overcoming faith, prayer, the blood of Jesus, fasting, and other related topics.
KINGDOM WORK – TRANSFORMER
The final part of Transformation 360 helps an overcomer become a transformer. A transformer is a tireless worker for the Kingdom of God who reaches and disciple others. He carries his load to advance the Kingdom of God, always remembering the admonition of the Apostle Paul in 1 Corinthians 15:58, "Therefore, my beloved brethren, be ye stedfast, unmoveable, always abounding in the work of the Lord, forasmuch as ye know that your labour is not in vain in the Lord." This final module covers topics such as spiritual gifts, the fivefold ministry offices, and the Kingdom of God.